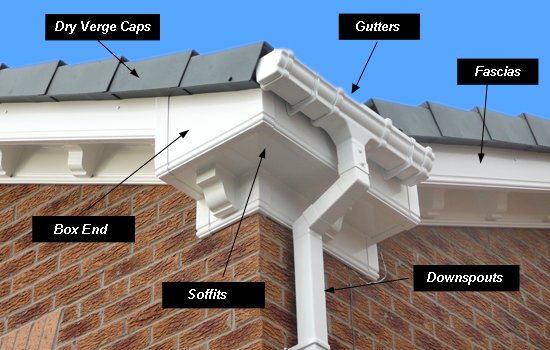 Fascia & Soffits
Fascia and soffits are basically the coverings you see at your roofline – on top of the cavity wall and covering the roof rafters where your gutters are (screwed to). Originally these were always made from timber but more recently you see uPVC alternatives. If you have timber fascia and soffits and you require "maintenance free" you may opt for a full replacement or capping boards. More details on these solutions are below.
All our full replacement fascia is 18mm thick (the cover fascia is 10mm thick along with all the soffits). Our supplier, Freefoam – who is the leading supplier of roofline products in the UK offer a lifetime guarantee on all full fascia jobs!
Care & maintenance:
Regular care and maintenance in the form of painting and weather-sealing the timbers (and/or render) should be carried out periodically. This is not just aesthetical, it of course helps protect the timber. We cannot tell how often you should have this work carried out, but an annual check is advised to inspect the timbers to see how they are weathering. As always we offer a FREE video inspection with no obligation.
Restoration work:
Repair works can be carried out to restore your mock Tudor to its original glory. This will involve replacing the rotten timber(s), filling any gaps. Prepping the wood and of course painting. Always use high quality weather-shield undercoat & paint.
Replacement:
The timber may be too bad to repair, maybe you are tired of replacing the timber and painting it. Or you may just wish to have a more maintenance free solution: You can completely remove all & replace with brown or black PVCu panels and cream or white high-tech aluminium composite panels.
This option may not be feasible if you live in a conservation area or you have a listed building. If you are not sure, check with your local council… or call Red Stag Roofing and we will be happy to check and let you know your options.
10 Year Guarantee – backed by our manufacturers
Can't see a suitable replacement above – other solutions may be available – call 0800 779 7040 and ask a member of staff about wood replacement materials.
We offer a lifetime guarantee on all full replacement fascia and soffit jobs!
This is backed by our supplier – Freefoam – who are the leading supplier of roofline products in the UK.
All our full replacement fascia is 18mm thick (the cover fascia is 10mm thick along with all the soffits).
Replacing your old timber boards should not be a hassle. We offer a free full consultation,catalogue and samples - so call today to discuss the best solution for you. Categories includes Fascia, Soffit & Capping Boards, Finishing, Joint Trims, Ventilators & Fixings.
Backed by our supplier our uPVC comes with a 20 year guarantee as standard
It can be extended free to Lifetime guarantee by having the full replacement Fascia & Soffit
Furthermore we offer a 10 year no-fade guarantee on wood grains and colours
Yes, our products stand the test of time – manufacturer backed guarantees!
All our Guarantees are transferable when you sell your house
The protection of our products are subject to the house and stay with it for the entirety of the guarantee length.
  Roofline Maintenance **LIFETIME GUARANTEE ON ALL FULL REPLACEMENT FASCIA JOBS**
Backed by our supplier Freefoam!
Gutters – Roofline uPVC cleaning
We specialise in cleaning uPVC – and of course this mainly consists of hard to reach areas and roofline but also conservatories and house cladding. First impressions really do count – So if you have tatty looking fascia, soffits, and gutters etc. you need look no further.
Using nontoxic (& no bicarbonate of soda) materials & 'Cleaner Living' products, sponges, cloths and UPVC cleaning creams, we'll clean and polish your plastics and conservatory by hand removing all dirt and staining including your windows, frames and fittings.