Chimneys are an integral part of any house especially if they have an open or gas fire and/or a log burner. We think of our chimney as a means to dispose of our unwanted gasses and smoke – and of course that is its preliminary job.  But it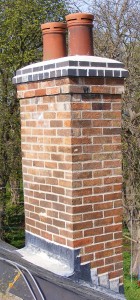 must be watertight and therefore your chimney must have adequate lead flashing, lead aprons, chimney flaunching, good brickwork and mortar (both pointing and flaunching). It must also be lined and have measures to stop pests and birds.
It is very important your chimney is maintained but don't worry this is not an annual fixture and if done properly can be left for many years.
See our sections on chimneys in the right hand menu for more detailed information.
Hi there! Red Stag Roofing. Thank you for repairing my chimney. No signs of any leaks anymore. Your before and after photos were a great help – I almost feel like a chimney guru now 🙂     Lisa – Heavily
testimonials
These guys have 5* ratings on Yell so it was an easy choice – but once I spoke to them and seen first hand their knowledge I was at complete ease. The chimney repair went flawlessly and I have booked them for a re-roof.
Mike – Brinnington